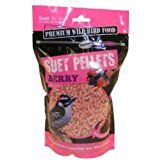 Suet to Go suet pellets
Birds love them! We sell a lot of these in our store. 19.4 oz. resealable bag.


High energy suet pellets with berry.

Attracts all species of wild bird as highly palatable and easily carried to a place of safety or to fledglings.

Simply scatter on a bird table or the ground, or use with any standard peanut or suet pellet feeder.
Reviews