Seed Hoop seed catcher 24"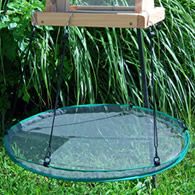 Seed Hoop seed catcher 24"
Protect your lawn and catch up to 90% of spilled seed!

Attract only the birds you want without any unwanted visitors! Give your birds a second chance to feed on the scattered seed without attracting undesirable critters below your feeder. Adjust the hanging cords to extend up to 40 inches long and use this hoop as its own independent, flexible hanging platform feeder. Rugged plastic mesh with green trim blends in with natural surroundings.


24 inch diameter & 1-1/4 inch raised edge
Hanging hoop catches spilled seed to discourage unwanted critters
Attach 6 adjustable hanging hooks almost anywhere on a feeder
Mounts to almost any kind of feeder, including pole-mounted
Feeder Sold Separate.

Reviews