Mr. Bird Bugs, Fruit and Nuts Cylinder Large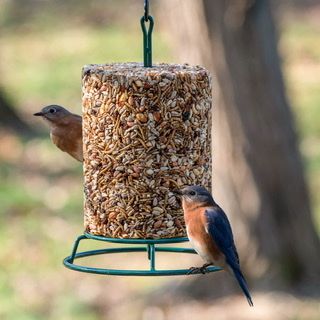 Mr. Bird Bugs, Fruit and Nuts Cylinder Large
Attract an amazing variety of backyard birds for your viewing pleasure with a gratifying selection of cranberries, mealworms, peanuts, raisins, sunflower hearts and tree nuts in this easy-to-serve cylinder. Watch birds eat every bit because this delicious and nutritious bird snack is 100% edible.
Not including holder.
Place on the ground, on a platform or a cylinder feeder and enjoy your birds. Individually wrapped for freshness and easy storage. Cylinder measures 6 x 6 x 7-3/4 inches. Made in the USA.
Easy-to-use 4 lb. 2 oz. cylinder
100% bird edible snack
Mount on ground, platform or cylinder feeder
Convenient, easy-to-serve & no-mess
Made in the USA
Reviews