Gilbertson Bluebird House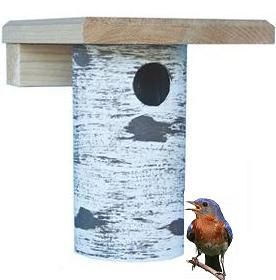 Gilbertson Bluebird House
Eastern bluebird favorite-The Gilbertson Nest Box is also approved by the North American Bluebird Society. New with optional poly-lumber matching roof. NABS APPROVED

This house mounts quickly and easily on 1/2-inch conduit. PVC will not rot, split or crack, and promises to host many successful broods with its great features:

-Overhang roof design discourages house sparrows, easy to attach a wren guard too.
-Body is easily removed by squeezing and elongating the top opposite sides, minimizes early fledges, and allows for easy monitoring.
-Recessed floor will not accumulate water, center drain hole should be checked every few months.
-Designed to keep water out, and nestlings dry.
-Attractive birch appearance complements the landscape.
-Lightweight with easy installation
-Long lasting vinyl/PVC cavity
-Roof option of cedar or matching poly-lumber (recycled plastic)

Nest Box includes mounting instructions and supplemental bluebird information.
Metal conduit is readily available at most building supply or hardware stores, may also be reinforced with rebar.

Cavity Measures 8" tall x 4.25" diameter
Roof Measures 9" x 7" x 1"
Reviews