Droll Yankees Red Ant Moat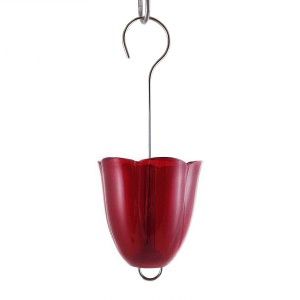 Droll Yankees Red Ant Moat
 NEW!!!The essential nectar feeder accessory! This sweet little Ant Moat offers protection for your hummingbird feeders. When filled with water, this little cup forms a barrier that keeps ants away from the irresistible nectar of the hummingbird feeders. It has a ¾ cup capacity that offers days of protection. Constructed of striking ruby red UV stabilized polycarbonate, the ant moat is durable and long lasting. It is a reliable first line of defense against ants.
Durable UV stabilized polycarbonate construction
Attractive coloration that coordinates with many hummingbird feeder color schemes
Stainless steel hanging wire
Sweet petal scalloped design
Hook extends through base to capture hummingbird feeder hanger
Holds 3/4 cup of water
Please! For the sake of the birds, keep your feeders and accessories clean! Dirty feeders spread disease. Soak all parts in a 50/50 solution of white vinegar and water. 
Reviews