Droll Yankee Observer window feeder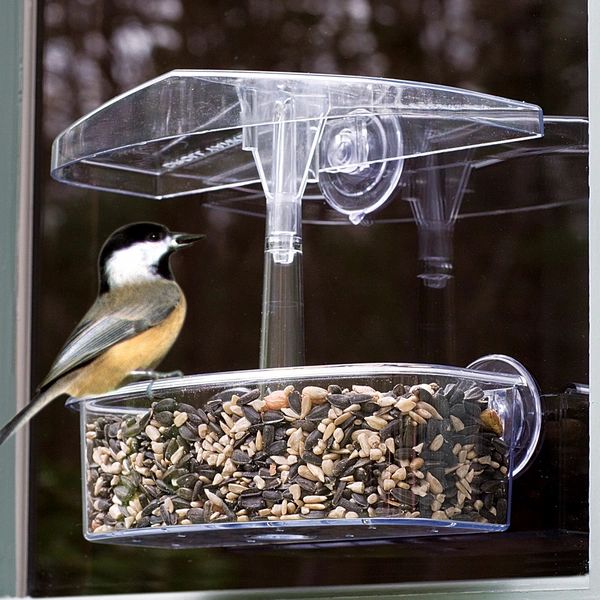 Droll Yankee Observer window feeder
The Observer Window Feeder's open, clear construction allows for unobstructed and up close views of birds as they feed. You can place this clear bird feeder outside any window in your home and watch birds come and eat up close and personal. Switch out your food offerings to attract as many different species of birds to your window. It's always fascinating to watch the birds have a bite to eat and learn more about nature just outside. You'll love sitting and watching birds flocking with the Observer Window Bird Feeder.
Features
See the birds up close with this wonderful window feeder
3 strong suction cups attach the OWF right to your window
Ideal for sparking children's curiosity and helping them learn about their backyard birds
Open sides and clear, UV stabilized plastic construction provides an unobstructed view
Attract a wide variety of birds by offering different types of food year round
The multi-purpose, deep dish feeder holds 2 cups of seed, fruit, suet, or mealworms
Food and birds are protected from the elements with the little shade overhead
Drainage holes eliminate any water from the dish
Convenient cleaning and refilling: simply lift the window feeder from its suction cups
Lifetime Warranty Against Squirrel Damage
Proudly Made in the U.S.A.
Birds that use this feeder: Cardinal, Chickadee, Goldfinch, Grosbeak, Nuthatch, Pine Siskin, Purple Finch, Sparrow, Titmouse
Specifications
Construction:UV stabilized Polycarbonate
Style:Window Feeder
Warranty:Lifetime Warranty against squirrel damage
Height: 8"
Width: 4"
Length: 7"
Capacity: 0.5 lb
Color
Reviews