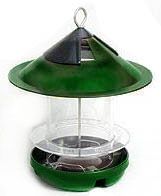 Becks Chickadee Feeder
Hang this bird feeder close to a window. Natural action for chickadees and nuthatches. Limits larger birds, allowing specific species to feed at the feeder. Has no perch and is so made that birds must cling to it rather than perch. Goldfinches are able to feed easily once they adapt to the clinging feeder. red or green. Will send whatever is available.
Size: 8" high and 6-1/2" diameter

• Made of high quality molded plastic parts with a central steel assembly rod and a non-loosening nut.
Reviews